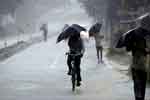 Windy condition over the island, particularly in Central hilly areas, Northern, North-central and North-western provinces and in Trincomalee and Hambantota districts (up to 50 kmph) at times and showery condition in South-western part of the island is expected to continue. MORE..


25 Aug 2019 (10:15 AM)



The Secretary of the Ministry of Power and Energy Suren Batagoda is avoiding the Committee On Public Enterprises (COPE) in the fear of having to reveal the names of the politicians involved in these frauds, according to the Ceylon Electricity Board Employees Union. MORE..


25 Aug 2019 (8:03 PM)



A person has been arrested by the Colombo Crimes Division (CCD) over links to terrorist activities, stated the Police Media Division. MORE..


25 Aug 2019 (6:20 PM)



Grateful memories of General (Retd) Hamilton Wanasinghe, who rendered an invaluable service to the motherland as a full pledged military officer for more than 40 years, was honoured last evening (24) when the main patch of road between Malwana and Dompe which is his residential forte was named as General Hamilton Wanasinghe Mawatha . MORE..


25 Aug 2019 (5:43 PM)



The presidential hopeful of Sri Lanka Podujana Peramuna (SLPP) Gotabaya Rajapaksa, attending the National Youth Convention of the party, addressed the solutions that would be provided to resolve the issues of the youth that concern the fields of education, employment, development, security, sport and environment. MORE..


25 Aug 2019 (3:02 AM)